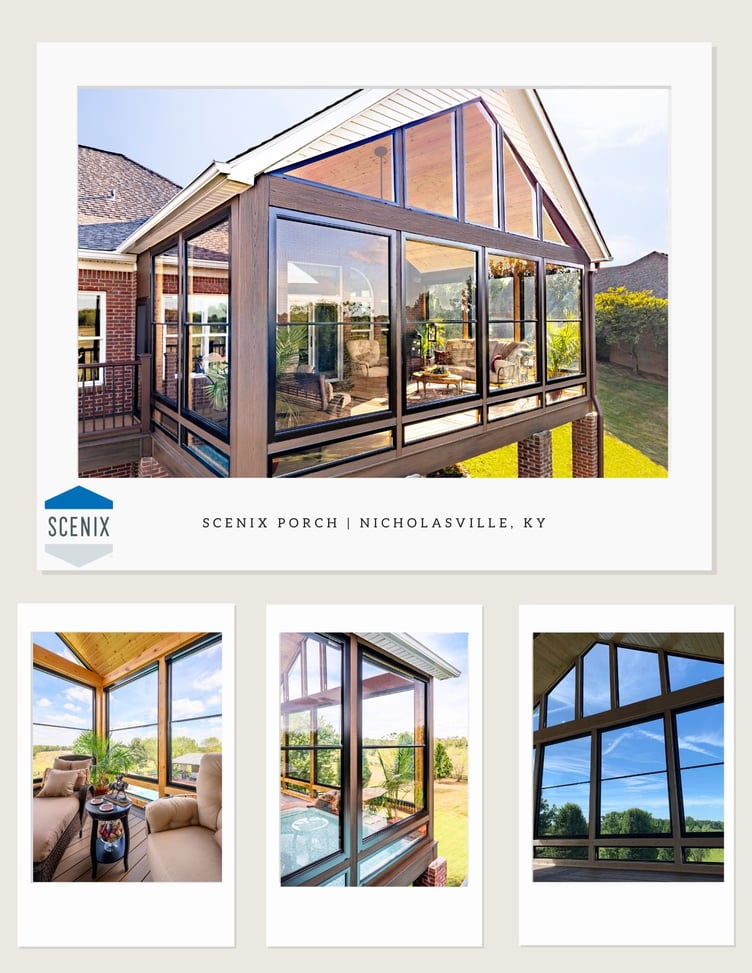 Enjoy views for days from this Bluegrass State Scenix Porch.
This porch complements a gorgeous home in the heart of the Bluegrass State. Overlooking the rolling pastures in horse country, this Scenix porch is a great place to relax and entertain throughout the seasons.
The homeowner was looking for an outdoor living space that enhanced their view but was protected from rain, wind, dust, pollen, bugs and other undesirable elements. Scenix porch windows with retractable screens allow the views of the Bluegrass State to be the true centerpiece of the room. The stately design features plush furniture, potted plants and horse memorabilia, making this porch a great place for entertaining guests or enjoying morning coffee.
Scenix porch windows feature gliding tempered glass panels that are up to six feet in width and eight feet in height, providing clear, panoramic views of the local scenery. Simply slide away the glass and have access to retractable screens, which not only let in fresh air but also keep insects out.
The porch is complete with a LARSON retractable screen storm door that converts the storm door to a screen door instantly by discreetly hiding the screen in a cassette at the top of the door. It also serves as a barrier between the covered porch and the uncovered deck, allowing for easy access.
Triangle, trapezoid and fixed glass windows from LARSON allow for floor to ceiling light below and around the porch windows and storm door.
Scenix windows are available in white, sandstone, brown and black. Keeping consistent with the home's other windows, the porch window frames are black. This color really makes the woodwork pop!
Feeling inspired? Plot your porch and learn how to expand your outdoor living with Scenix porch windows by LARSON.