"Our 3-season room is our new favorite room in the house. It's where we enjoy our morning coffee while viewing the flower garden. It's where we play games with the grandkids, entertain guests and enjoy after dinner drinks while watching the stars." - Scenix Porch Homeowner
The porch. It's one of the home's most treasured spaces - where family and friends converse and connect, where laughs are shared and memories are made. But most porch experiences are hampered by rudimentary screens that offer no protection from the elements, or by small windows that limit the view.
Update your porch with
Scenix porch windows
for unobstructed views, free o
f incle
ment weather and pests.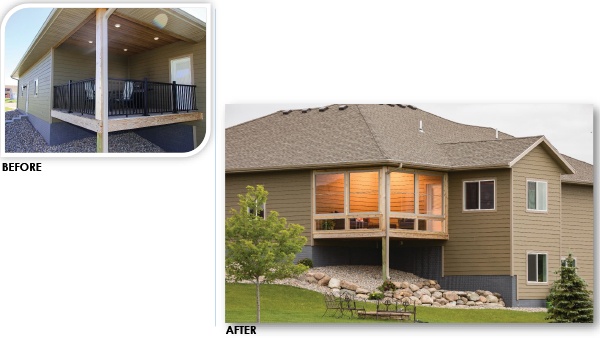 Here are a few of our favorite uses for a Scenix porch!
1. Change of setting for meals & entertaining
2. Enjoy viewing your flower garden without the bugs
3. Music room for practicing and listening
4. She Shed/Mom Cave for reading, hobbies & crafts
5. Playroom for kids and grandkids
6. Exercise or yoga room
7. Get-away for reading, napping, & relaxing
8. Man Cave for cards or watching sports
9. Relaxing place for a hot tub & guests
10. An extension of your patio bar