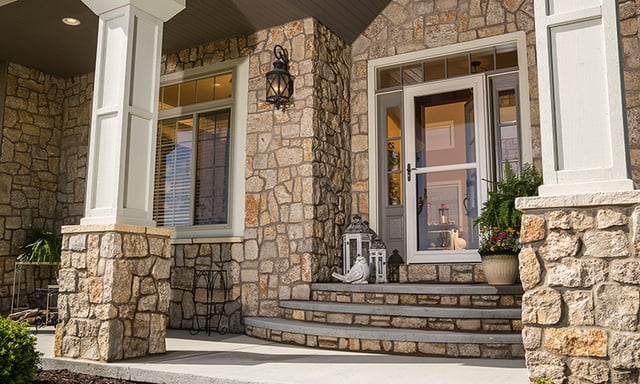 The forecasts for 2017 color trends are in. And Pantone predicts the hues found in nature will feature heavily in 2017. The fresh greens of vegetation and the cheery yellows of sunshine invoke the outdoors. While the earthy tones of brown are associated with warmth and wholesomeness.
HGTV says that neutrals will be a top pick, paired with brighter accent colors. Think light gray and a jewel-tone purple, or a sandy beige and emerald green. And blue is still a favorite for its soothing, peaceful characteristics.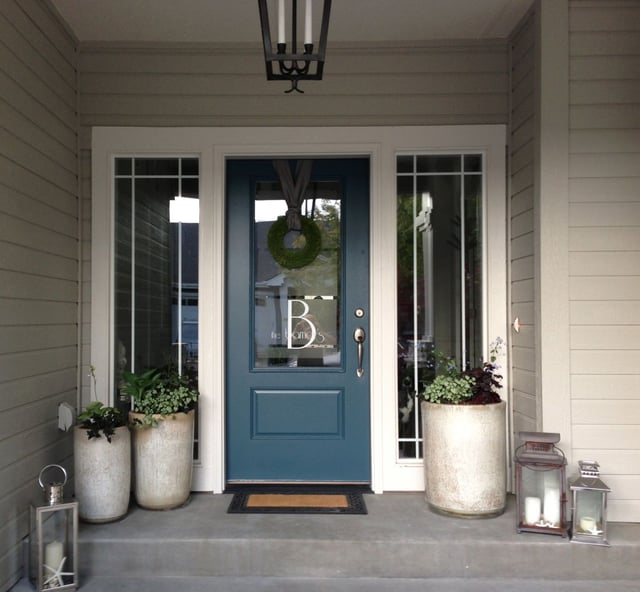 Image Source: My Suite Bliss

If you're remodeling your house or simply looking to update your entryway, these trends can help guide your color choices. Your entrance sets the tone for the rest of the house. It welcomes guests and offers a lasting impression. What will your front door say about your home? Warm colors like red and yellow convey passion and energy. A cool color like green is balancing and nurturing.
Choosing to add or replace a storm door gives you the opportunity to update your entrance by injecting some color and personality. What impression do you want your entry to make? Your color choices will play a big part in that first impression. You can match a new storm door to the color of your existing entry door, or choose a complementary or accent color. Larson offers custom made storm doors in a variety of colors and styles, so you can get the exact look you want. Let's explore some design options...
Sticking with a color found in nature, a brown storm door is a fun accent to a traditional white entry door, and a popular color for 2017. Larson's First Impressions full view door in brown does, indeed, make a great first impression. The full glass allows natural light to pour into your entry.
Conversely, have your existing front door painted cranberry and choose a white storm door, which will act as a frame to your new piece of cranberry "art." Cranberry is a hot trend right now and a go-to color for many designers. Consider tying together the color theme by painting any shutters or architectural accents on the exterior of your house in cranberry hues as well.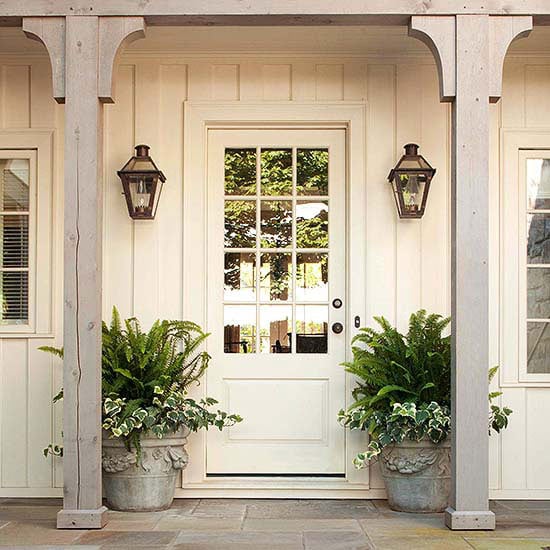 Photo by Better Homes and Gardens
If neutrals are more your style but you'd still like to mix it up, go for a tonal look with sandstone paired with white. The soft brown and crisp white echo colors found at the seashore. Picture the whitecaps of ocean waves crashing on a sandy beach. Larson's Full View doors in almond or sandstone are good choices for neutral palettes.
You can't go wrong with the classic combination of black and white. The tried-and-true combo of black and white transcends any fad with its staying power. It is sleek and sophisticated, and works in traditional or modern settings.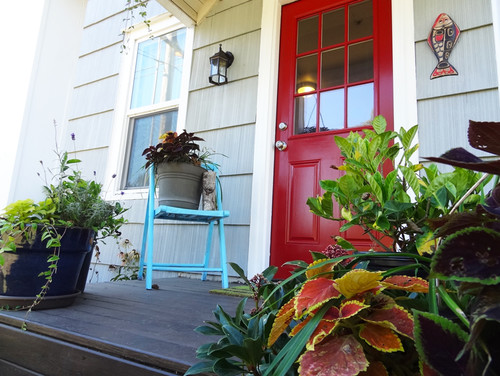 Speaking of a classic, let's not forget one of the most popular color choices for an accent-colored front door: red. The pop of red on a neutral colored house is striking and catches the eye of passersby.
Making some small changes to the exterior of your home can have a big impact. Start with your front door and let your imagination lead the way.