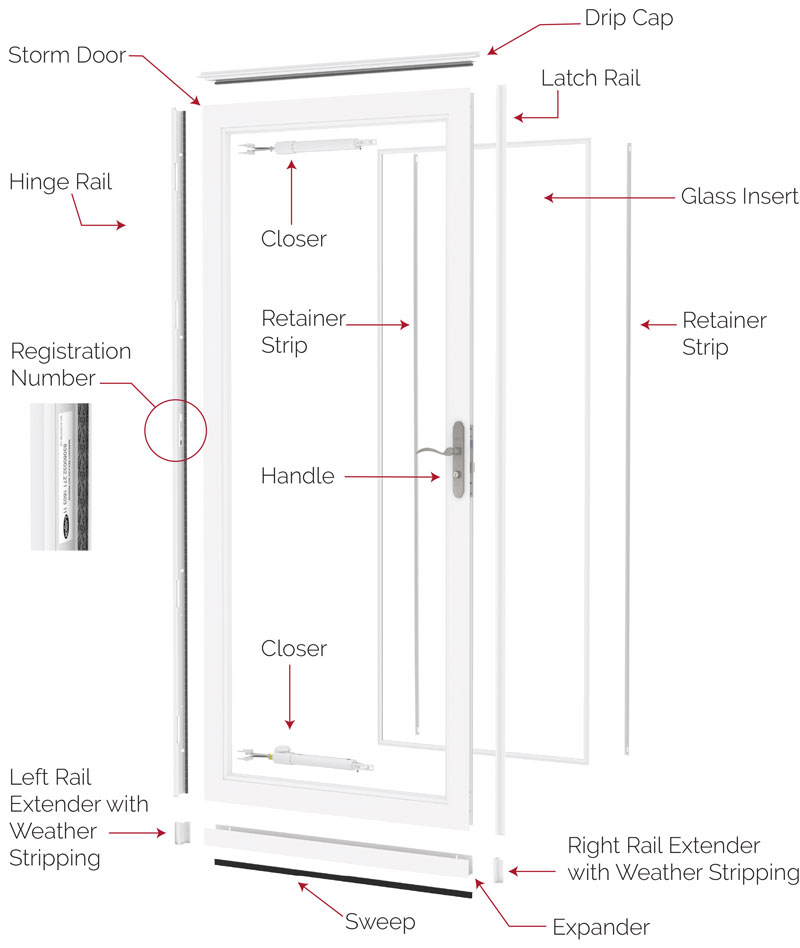 Storm doors have many parts that work together to enhance the look and feel of your home. Let's break down the parts of the storm door to better understand what these parts look like and how they operate.
Closer: Storm door closers return the door to a closed position to ensure a tight seal.
Drip Cap: The drip cap rests at the top of the storm door to deflect rain.
Expander: The expander rests at the bottom of the door and can be lowered during installation for a precise fit.
Glass Insert: The glass insert is unique to full view doors. The full glass can be removed and replaced seasonally with a full screen (included on interchangeable full views). Other models will may have a different glass configuration.
Handle: This model shows a LARSON Quick Fit™ handle set, which is sold separately. Please note, depending on the LARSON storm door you choose, your door may or may not include a handle.
Hinge Rail: The hinge rail is part of the storm door frame that is attached to your brick mold or other mounting surface. It secures the storm door to the hinges.
Latch Rail: The latch rail attaches to the handle side brick mold or other mounting surface. It allows the storm door to latch and close against the weather strip.
Left and Right Rail Extenders: Like the expander, the rail extenders allow your door to be adjusted for a precise fit; they are installed at the bottom of the hinge rail and the latch rail.
Registration Number: Every LARSON storm door includes a registration number. This number allows our team to identify when and where your door was made and what model you own.
Retainer Strip: LARSON interchangeable full view storm doors include two retainer strips. These plastic strips hold your glass or screen securely in place.
Storm Door: A storm door is the second, outermost door of a home's entrance. Storm doors can be used on front doors, back doors and side doors. Storm doors were originally invented to protect entrances against bad weather. Today's storm doors provide many more functions. Storm doors seal out bad weather, reduce outside noise, provide ventilation, add light to your home, keep bugs out, and add to your home's curb appeal.
Sweep: The sweep is a rubber flap that seals gaps between the bottom of the door and the threshold; it keeps moisture, dust and insects out.