Moms are our biggest cheerleaders, our most trusted confidants, and our best friends. This Mother's Day, we want to celebrate all moms - new moms, seasoned moms, foster moms, grandmoms, dog moms, and even the woman who is "like a mom" to you. Submit a photo of your mom for a chance to win the mother of all storm doors!
Thanks for participating in the Share a MOMent contest! Voting has ended and a winner has been selected.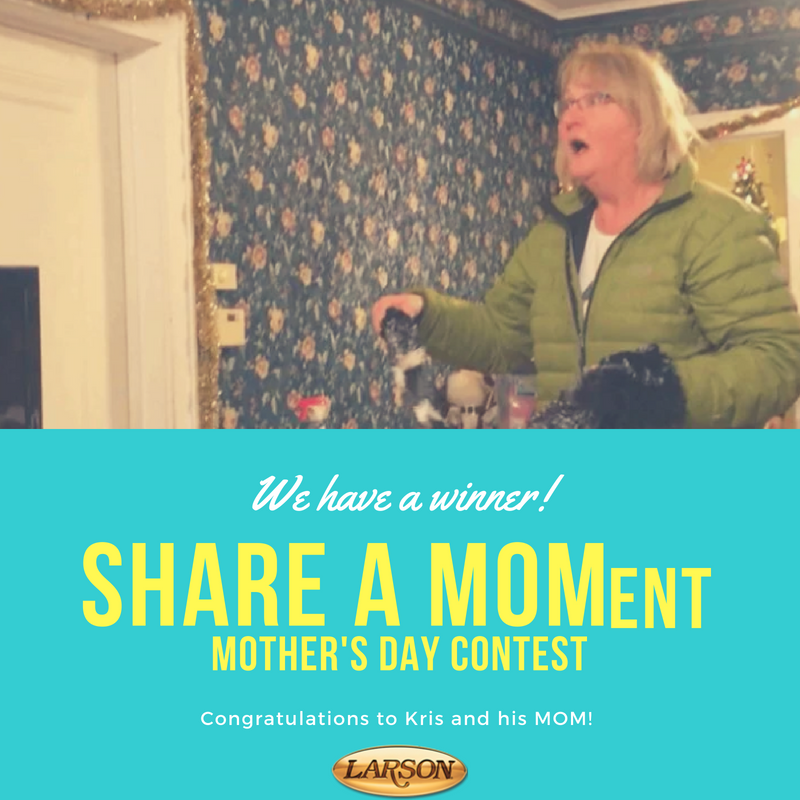 1. Janet
Mother's Day 2017, Janet Laura Beth and Caroline
2. Jerry
Mom going out on a dare
3. Don
My beautiful mom and her beautiful sister (my aunt) and girlfriend in 1929. Before they were MOMS.
4. Karen
She fills his boots when he is gone and is the glue that hold us together.
5. Brenda
GrandMOM is the sparkle on the window for a MOM!
6. Robin
A Springtime surprise for Grammie!
7. Marquita
Wife & Mom of 3 Girls, Fun Times, Family 1st, and so Blessed to have each other :)
8. Brian
Mom winnng at cards!
9. Cory
Love you Mom!
10. Jeff
My beloved mid-century Mom circa 1954, now 91 and hoping to look out of a new Larson screen door!
11. Emmy
Too tired to function
12. Susan
Love my mum
13. Stephen
Providing year round comfort for the entire family.
14. Jordan
The best mother a guy could ask for!
15. Wanda
Four generations of fun!
16. Jamie
Easter Sunday with loved ones.
17. Mary
3 generations of powerful, independent women
18. Rick
The best mom ever
19. Christina
Help keep these little cuties safe! We desperately need a new storm door on our backdoor.
20. Donna
Grandma with 2 of her 5 grandkids
21. Ann
My mom is a single parent. She is my role model. She puts her children and dog before herself. I don't want to talk about the loving kindharted person she is, I want to talk about how my mom takes care of strangers better than herself.
22. Rachel
Cherish each giggle, live in the moment, love each other.
23. Susan
Which one is the mother and which one is the daughter?
24. Lauren
Cupcakes for dinner?! Get in my belly!
25. Robin
Being silly with Mom after a difficult start to the year!
26. Teresa
The love of my life.
27. Kristin
Wasn't she lovely?
28. Suzanne
A very special day with my mom.
29. Tammy
The life of grandma
30. Steve
Mom, Ruth Hendricks is 90 and still going strong!
31. Kev
I love my Deck
32. Colleen
Simply Beautiful mama with her granddaughters
33. Kristin
Day out with Mom - Hunting!
34. Scott
A son's first love.
35. Jill
3 generations!
36. Erin
A good day with my mom ends with sand between my toes and a sun kissed nose.
37. Sierra
Love my mom!!
38. Yara
Karim's first birthday
39. Maxine
Moms, Always Carrying Us Through Life!
40. Lynn
Best Mom, Gramma, and Great Gramma!!!
41. Megan
There's nobody in the world I'd rather have as my mom! ♥️
42. Carol
My mom's an Angel 5/11/16.
43. Kelly
Does anyone have Bubble Bread?
44. Tracy
Riding the STORM out... at the REO Speedwagon concert!!!
45. Lisa
Even when health fails and memory falters, laughter remains. It is, indeed, the best medicine.
46. Kay
My Mom has been an inspiration to her entire family. She is now 93. This is her great grandchild.
47. Angie
5 children and 12 grandchildren - still looking great at 73!
48. Juan
Here goes nothing!(first watercoaster at Disney World)
49. Stephanie
My mother teaching me how to can and make pickled beets. A tradition passed down from her mother.
50. Zach
Mom trying to figure out Snapchat filters. She didn't know about screen shotting yet!! Love you Mom!
51. Kris
When your daughter flys home from Spain for Christmas without telling Mom. MOMent of the year!
52. Barbara
Loving the view from a Larson Door!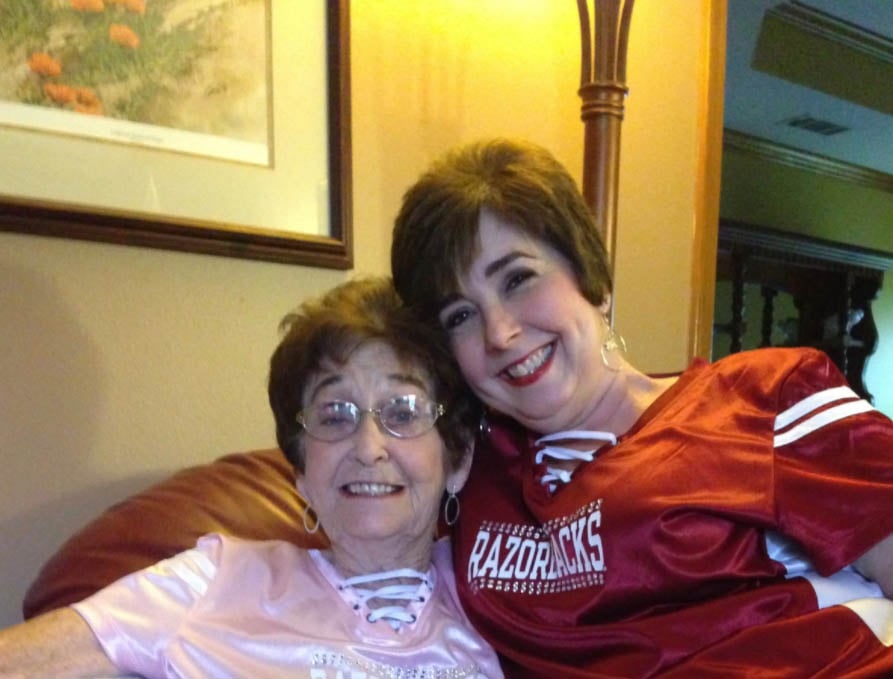 53. Karen
Getting ready to "call the hogs" Arkansas Razorbacks. Woo Pig Sooie❤️
54. Carolyn
Mom'sX3
55. Rachel
I'll always love my momma
56. Nancy
My mom is 90 years young and loves to hold her great-grandchildren. They love her, too!
57. Colleen
The Lady Was A Tramp(oline) Fan.
58. Susan
My mom out to lunch
59. Betty
Mom, I will always be your SONshine!
60. Daina
New necklace on me.
61. Christian
MY MOM IS BETTER THAN YOURS!!!❤️❤️❤️❤️
62. Stacy
Wine attraction event in Florida
63. Carrie
Flowers are pretty but Mom you are beautiful!
64. Kim
She helped make my wedding day so wonderful, but she makes every day special for the whole family!!! HAPPY MOTHERS DAY MOM
65. Ginger
4 Generations of strong, loving, caring women!
66. Jacob
Running with Mom for our first 5K as a family!
67. Jan
Life in the prairie was hard when you only have your coonskin cap for a pet!
68. Delmas
Best Mom Ever Miss You Forever And All Kindness You Showed Others
69. Melissa
How do you like my new hat?
70. Pat
Hi!
71. Evelyn
I live in NC, but my mother lives in Puerto Rico.
72. Hershel
My Beautiful Mom
73 David:
My mom the best, couldn't think of anyone who can compare.
74. Jessica
Summer Fun
75. Brittni
Birds of a feather, flock together!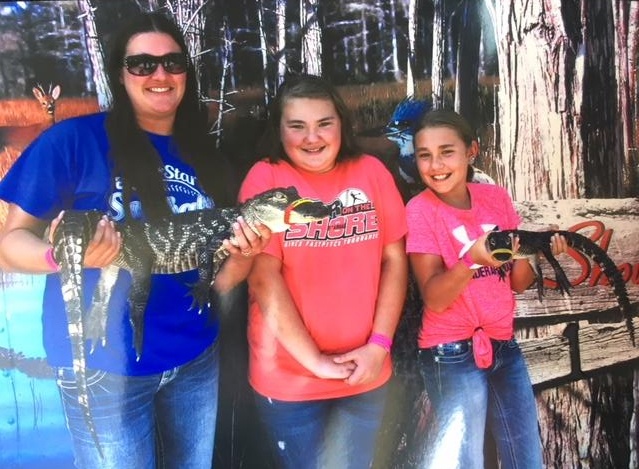 76. Kristin
Really Mom, do I have to!!
77. Lila
My most beautiful and wonderful person with lots of love and always there for her family 8 girls and 3 boys never complained always happy and smiling. Everything was good for her.
78. Karla
Three Generations of moms
79. Annie
When they all want to cuddle at the same time
Going to Def Leppard, Poison, & Tesla for my birthday. :)
We may not be eye to eye, but we're definitely heart to heart.
When your mom is your best friend, every day is this happy.
85. Deborah
My BEST friend!!
86. Layla
She is always there for me when I need her most. Love you mommy!!!!!!!! Thanks for always being there for me!
87. Mary
Watch out, these two are plotting something again, I can tell!!!
88. Annie
Me and my baby
89. Sarah
Spending this Mother's Day, as a new mom, with my mom!