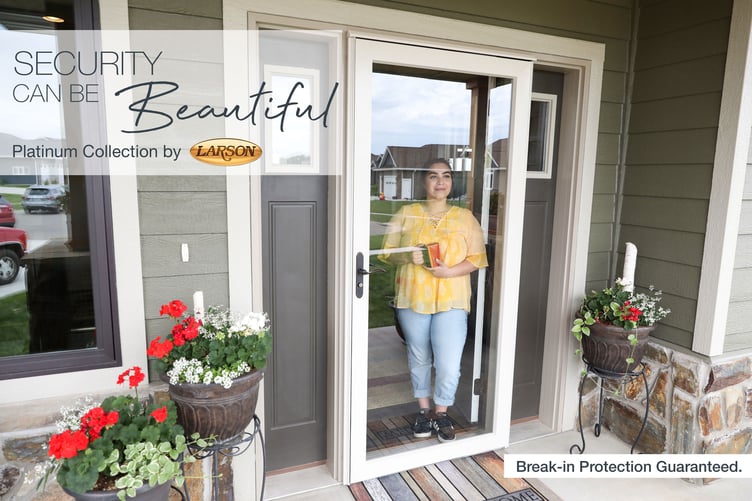 October is known for ghosts, ghouls and trick-or-treating, but it's also National Home Security Month. Welcome witches and werewolves at your front door, but scare intruders away.
Home security is often overlooked. Protect your home, family and belongings, starting at your front door. Our Platinum Security Collection provides peace of mind and proves that security can be beautiful.
Meet the Platinum Collection
The Platinum Collection from LARSON® is the ultimate in storm door technology with all the features you've come to love, plus a sleeker profile, enhanced security and effortless installation. And did we mention, curb appeal?
Platinum Secure Screen Hit Test
Woven with stainless steel, The Dominator™ screen has the strength of more than 1,000 lbs/inch.
Platinum Secure Glass Hit Test
Laminated security glass keeps intruders out and ​shields against blunt or sharp objects, without compromising your view.
Home Security Checklist:
Install security doors for an added layer of protection
Keep valuables hidden from street view
Trim hedges to reduce hiding spots
Lock down your Wi-Fi Network
Don't forget to secure your garage
Install flood lights at front, side and back of property
Install exterior faucet locks
Install locks on fences and outbuilding entrances
Install indoor/outdoor cameras that can be accessed from your smart device
Check smoke alarms and carbon monoxide detectors regularly
Other tips for securing your home while you are away:
Cancel mail deliveries
Store important documents and personal valuables in a safe that is bolted to the wall or floor
Don't post photos of your vacation or destination on social media until you return
Leave lights on a timer
Check that all doors and windows are locked
Have a friend or relative check on your property periodically
Download the LARSON security brochure for our complete security line.