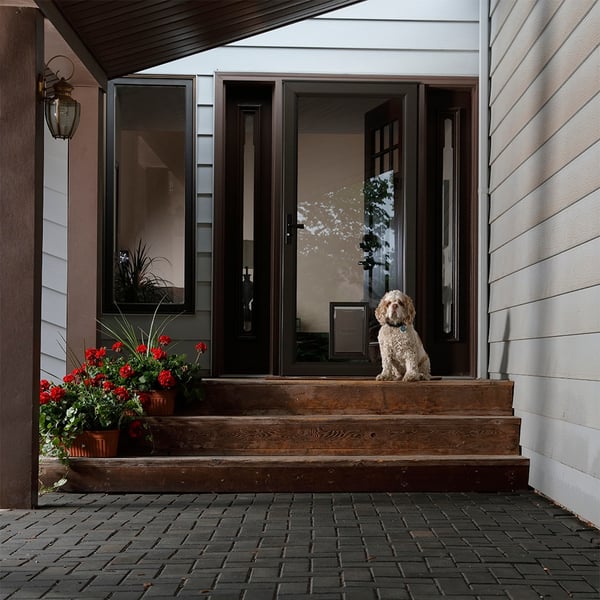 Have you added a four-legged family member to your pack after installing your existing LARSON storm door?
Maybe you recently moved to a new home with an existing LARSON storm door that lets in light, but not the dog.
Did you know, you may be able to upgrade your storm door to accommodate your pets?
Our glass inserts are easy to order and to install. Plus, they give your dog or cat the freedom to come and go throughout the day.
Allow your pet to easily access the outdoors while you are away. Before you painstakingly cut into your home or expensive prime door, consider an easier option. Your current LARSON door can be retrofitted with a pet door glass insert, saving you both time and money. Simply switch out the bottom glass on a Screen Away model or full glass on a Fullview model with a new pet glass insert!
The LARSON pet door insert allows you to quickly upgrade your door and provide easy access for your pet from the inside to the outside.
Don't have a LARSON storm door? Find a pet-friendly option!
Reasons to upgrade:
The glass panel is easy to install in approximately 5-10 minutes.
The factory-installed PetSafe flap is 8-in x 12-in and accommodates pets up to 40 pounds.
For safety, the insert includes an inside security panel to keep unwanted critters out when the pet flap isn't in use.
Forget about cutting into your walls or prime doors to allow for pet access through dog door.
Allow your pets to see outside and let themselves in and out.
The color-matched pet door trim seamlessly blends in to your existing door. You won't be able to tell it wasn't an original part of the door.
All LARSON doors come complete with tempered glass, which is four times stronger than ordinary glass, and if broken, fractures into small, relatively harmless pieces. Tempered glass allows for added peace of mind for kids and pets alike.
Upgrading your LARSON storm door is as easy as sit, stay, play!
1. Visit our website and enter your registration number.
A. Click on Glass/Screen option
B. Scroll down to Additional Colors and Accessories
C. If your door has a pet insert option, click Add to Cart
2. Your door insert will be deliverd in approximately 5 to 7 business days.
3. Install your pet insert in 5 to 10 minutes and let Fido out to play!
Purchase your pet panel today.
Don't just take our word for it, check out these cool cats with their new LARSON pet door insert.
To see accessory options like pet panels for your door, enter your registration number in the parts section of our website.
*Please note, pet inserts are available for many models, but not for all. If your model does not appear after entering your registration number, the option is not available. Don't fret. We have many affordable replacement options. Shop LARSON pet doors.