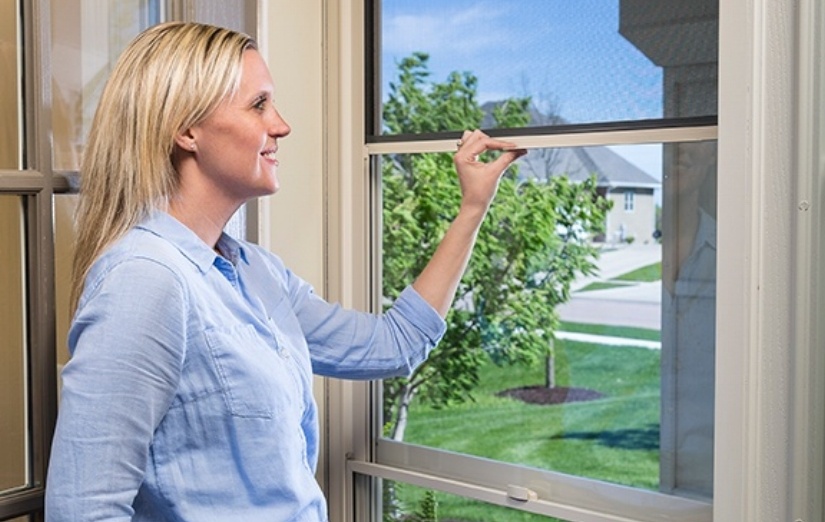 Today's storm doors aren't the old, slamming wooden screen doors your grandma use to have. The latest storm doors feature modern designs that are built to accommodate and enhance your daily life.
Read on to find 11 storm door features you didn't know exsisted, and find the feature that fits your lifestyle.
Retractable Screen Away®
The retractable Screen Away® design gives you the best of both worlds: a storm door when you want it and a screen door when you want it. The screen is housed in a hidden cassette at the top of the door. The Screen Away® storm door simply pulls down with one touch and converts the top half of your glass door into a screen. It easily slides up or down for unlimited ventilation options.

If you love to let in the fresh breeze but can't commit to a seasonally switching from a glass door to a screen door, look for this feature.
Low-E Glass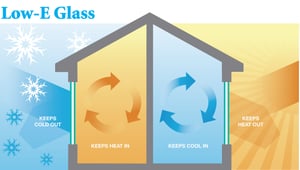 High performance Low-E glass option helps reduce your household energy costsand increase the comfort of your home. Low-E glass reduces the amount of UV light that enters your home and protects your entry from fading. This glass option is a great choice if your front entry gets a lot of direct sunlight.
KeepSafe® Glass
Like an automobile windshield, the KeepSafe Glass® has a laminated security shield sandwiched between two pieces of factory strengthened glass. KeepSafe Glass® is built to withstand repeated blows by blunt objects. This is a great option if you're concerned abouthome security, but still have a full glass door.

Hold-Open Closer
Hands full every time you walk inside? Look for the hold-open closer. The closer features a Hold-Open button that holds the storm door open with a tap of your toe, making it a great option with busy families running in and out of the house.
Overlapping Edge
Some storm doors have any overlapping edge. This small feature makes a big impact when it comes to drafts—the overlapping design seals out weather and keeps drafts out. Look for this feature if you live in areas with strong winds; the harder the wind blows, the tighter the door seals with the overlap feature.
Magnetic Weather Strip
If harsh weather conditions describe your area, look into doors with magnetic weather strip. The magnetic weatherstrip seals like a refrigerator for ultimate protection against harsh weather.
SecurePRO™
If home security it at the top of mind look into SecurePRO™ storm doors. SecurePRO™ doors provide curb appeal and peace of mind.
These doors have a stainless steel mesh screen is knife resistant and still lets in the breeze.
Available in a security storm door and security storm window, the SecurePRO™ let's you enjoy fresh air without compromising home security.
3-Point Lock System
This multi-point lock secures the door in three places. Hooks at the top and bottom of the door frame combine with the live bolt to secure into the door jamb. A two-step process is required to lock and unlock the door, making it child-safe.
5 Hinge System

Does your door have a lot of traffic in and out? If you have a lot of traffic running in and out of your house, look at the 5-hinge system. The 5-hinge system is built tough to last in heavy traffic areas and wind-prone areas. Stand up to heavy traffic and abuse with a 5-hinge system.

WearTuff™ Screen
The WearTuff™ screen is 3x stronger than regular screens. The tear resistant WearTuff™ screen provides extra durability against active lifestyles.
The enhanced toughness of this screen makes it a great option for homes with rambunctious pets and curious toddlers.
Not only does it stand up to active families, but it also keeps your home's curb appeal intact.
Blinds-Between-the-Glass
Adjustable Blinds-Between-the-Glass offers privacy and protection from UV Rays. The blinds are sandwiched between insulated glass which gives you more energy efficiency. Easy-to-operate levers raise, lower and tilt blinds with a cordless design that is safer than traditional blinds with cords. Use these 11 features to help determine which door is right for you.