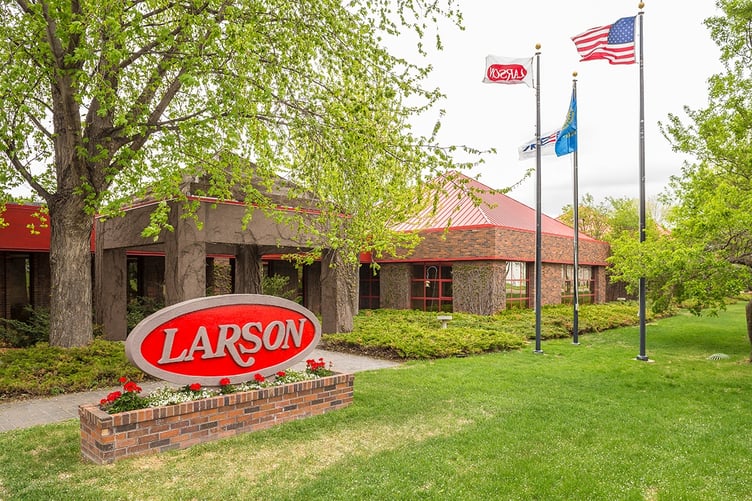 Larson Manufacturing was founded 60 years ago. We've had a quiet history in the public's eye throughout our years, but despite that, we have a lot of interesting things about us that you didn't know.
Like did you know Larson Manufacturing was started by Oscar Larson when he was 62!?
Larson Manufacturing was started by Oscar Larson when he was 62 years old! That's right—on a cold fall day in 1954, Oscar Larson stood upon a rickety ladder stretched up to his second floor bedroom while putting up the storm windows on his family home. He thought, "There's got to be a better way!" That's when Larson Manufacturing began as a one-man operation. Oscar desiged his own windows and began a regional door, window, and aluminum awning company called Larson Distributing Company, later known as Larson Manufacturing Company in his hometown of Albert Lea, MN.
The company moved to Lake Mills, Iowa in 1961. Some thirty trucks with the help of numerous businessmen and farmers, transferred the entire business to Lake Mills in one trip!
Founded by his father Oscar Larson, Dale Larson began his career with Larson Manufacturing in 1962. He led the expansion of manufacturing to Brookings, South Dakota, in 1964. With the passing of Oscar Larson in 1968, Dale Larson became the Larson Manufacturing Company president and CEO.
In 1979, before workplaces were concerned about gym access and memberships, LARSON built a Rec Center for employees and their families in Brookings, SD. The center is complete with a pool, racquetball courts, and tennis courts.
In 1987, Larson Memorial Scholarship Program was established in memory of Oscar Larson, the founder of Larson Manufacturing. Oscar Larson believed that every student should have the opportunity for a great education. This program encourages chidren of LARSON employees to continue their education after high school.
LARSON has a long relationship with Habitat for Humanity. In 1990, Dale Larson and LARSON employees traveled and installed new storm doors on 60 homes as a part of Habitat for Humanity and met President Jimmy Carter during the process. Larson Manufacturing and the Larson Family Foundation found a match in the Habitat mission of helping families break the poverty cycle and build long-term financial security through affordable housing. Larson is a proud Habitiat For Humanity Cornerstone Partner.
There's a Larson Storm Door on former US President Bill Clinton's house.
Our factories and our Customer Care call center are, and have always been, based in America. LARSON has manufacturing plants in Brookings, SD; Lake Mills, IA; and Mocksville, NC. LARSON products are distributed through 10 distribution centers across the United States. Larson Manufacturing employs a dedicated sales force stationed throughout the country and are proud to have their products made in the USA.
Nearly 25% of our employees have been with LARSON for twenty years or more. With less than a two percent turnover rate, a fraction of the industry average, the people at LARSON pride themselves on longevity.