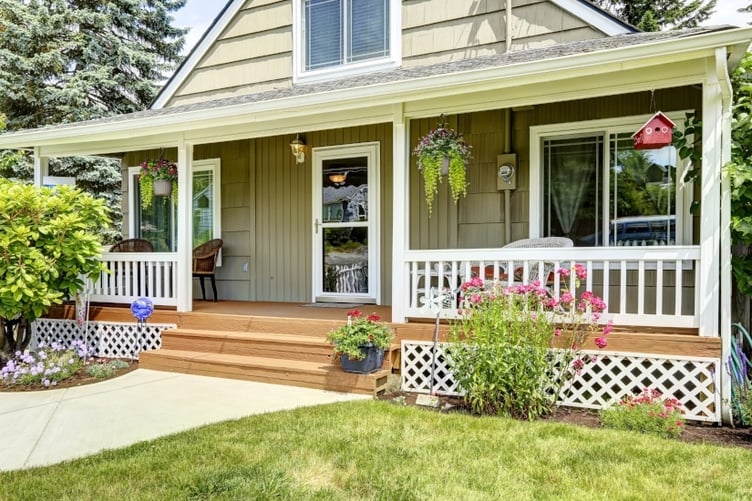 Larson Storm Doors have been around for a long time, so you might be asking yourself, "What's so great about storm doors?" We're here to answer that with 13 reasons why people love Larson Storm Doors.
The view. Nothing is better than being able to look out your door and see your kids playing in the front yard or your garden growing in the backyard.
They let you keep your front door open. Adding a storm door lets you keep your front door open so you can enjoy the natural light while still having a barrier that keeps the bugs out.
You can let in the breeze. The retractable Screen Away

®

is simply the best for quickly letting in the breeze. Think about welcoming in the fresh spring air, but being able to quickly close it when spring rain hits.
It's a DIY project you can actually do yourself. Installation is pretty simple and quick. You don't need a lot of tools or a ton of experience to install because the instructions are really step-by-step and don't require any cutting.
The hold-open closer at the bottom of the storm door is like having an extra hand to hold the door open, so you can carry groceries in without having the door shut on you.
Storm doors also protect the trendy painted front door you have. It acts as an insulating layer and protects your prime door from the elements, so the paint lasts longer.
The products are reliable. LARSON

®

has been in the business of storm doors and storm windows for over 60 years, so they know a thing or two about making sure their products are reliable. They have high-quality standards to ensure only the best products leave their facilities.
There are a lot of options. If you're browsing for a new door, there's no doubt you've seen the vast selection of products with different features, colors, and styles to choose from.
They let your pets enjoy the view. Pets love basking in the sun and staring out watching the neighborhood…and they can do that with a storm door. It keeps them happy and also helps keep them inside when they're supposed to be.
Enhanced security might not seem typical, but it is an unexpected feature in many storm doors, it is. A lot of storm doors come with a deadbolt lock built-in and some even have a multi-point lock that secures the door in three places.
You can lower your energy bill. That's right, adding a storm door with low-e glass will help keep your house cool in the summer and warm in the winter, lowering your energy bill.
The company has a solid foundation. Larson Manufacturing has been in business for over 60 years and they aren't going anywhere. Not only do they build quality products, but they give back—to their employees and to the communities they're in.
Made in the USA. Larson Manufacturing manufactures right here in the United States.