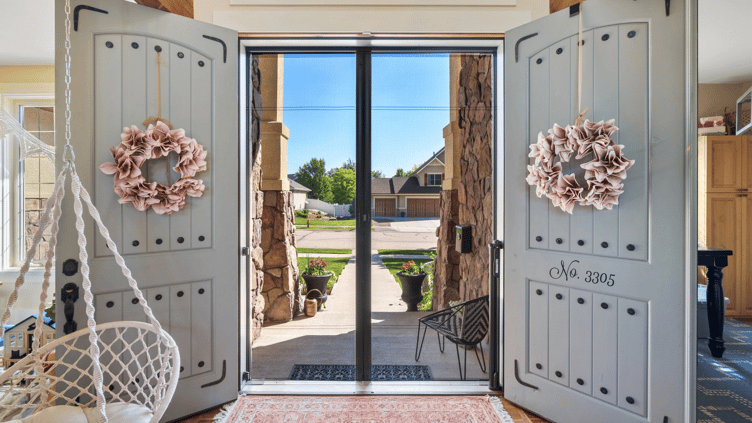 French exterior doors are both timeless and a popular option in modern home design. Whether you are looking to protect your exterior door, add light to your entryway, invite fresh air in, or improve your home's security, LARSON® has many double-door options.
First, ensure you measure correctly.
Then, know your French Door storm door options. We've compiled a list of our most popular models that can be used for double door configurations. Take a look here.
With our French Door Conversion Kits, LARSON storm doors are easily adapted for double-door entry applications. Each kit includes detailed installation instructions, all necessary hardware, astragal, and special drip cap.
---
Storm Door Options
Pictured below are 146FV Screen Away® storm doors. Storm doors not only let light and fresh air into your home, but they seal out harsh weather as well. Add Low-E glass for increased energy efficiency.
Choose from a variety of frame colors to complement your home and a straight or curved handle to optimize your style.
You will need a French door conversion kit to install these double doors and they can only be installed over inswing prime doors. Contact your local dealer to order your conversion kit.
---
Screen Options
Brisa Double Retractable Screen Doors
Brisa Retractable Screens are a great option if you want an option that lets fresh air in, keeps pests out, and doesn't hide your doors. The screen cassette comes in 4 colors (white, sandstone, brown and black). These color options help the cassette blend into the frame/surface.
This two screen system allows you to open both sides, or keep one side stationary while opening the other to walk in and out of the entryway. These doors can be installed over inswing or outswing French doors.
---
Steel Security Options
Pictured below is the Mesa Security Double Door.
Steel Security Doors are a great option if security is your main goal. This model comes in five colors: white, sandstone, graphite, brown and black.
This model features a 3-piece tempered safety glass system, pneumatic closer and wind chain.
Many of our steel security doors are available in single door and double door configurations.