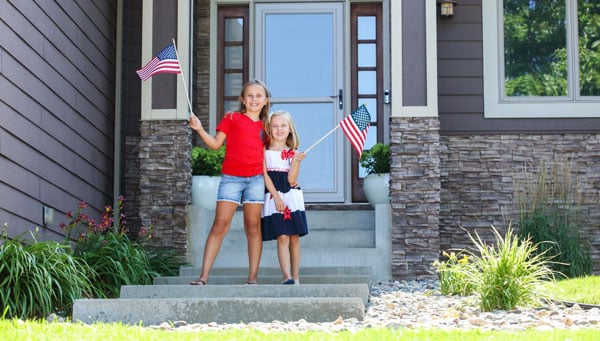 Learn proper American flag etiquette so you can add a touch of patriotism to your front entrance.

Proudly manufactured in the U.S.A.
LARSON products are proudly manufactured in the United States. The red, white and blue have a special place in our heart. As you celebrate Memorial Day, Flag Day and Independence Day this spring and summer, make sure you are correctly displaying your American flag.
How to Display
Traditional guidelines call for displaying the flag in public only from sunrise to sunset. However,
the flag may be displayed at all times if it's illuminated during darkness.
The flag should not be subject to weather damage, so it should not be displayed during rain, snow and wind storms unless it is an all-weather flag.
It should be displayed often, but especially on national and state holidays and special
occasions.
New Year's Day
Inauguration Day
Lincoln's Birthday
Washington's Birthday
Armed Forces Day
Memorial Day
Flag Day
Independence Day
Labor Day
Patriot Day
Constitution Day
Columbus Day
Navy Day
Veteran's Day
Thanksgiving Day
Christmas Day
In a time of national mourning, hang the flag at half-mast.
*Source: US Department of Veterans Affairs
How to Fold an American Flag
Keep your flag completely dry and folded properly - into a triangle, with the union section visible - before storing it in a well-ventilated area. If the flag is damaged, it should be disposed of with dignity. The flag should not touch anything below it or rest on the ground.
Learn Flag Etiquette
You've learned the basics, now take a look at this video to learn how to properly hang your flag and attach it to your home.