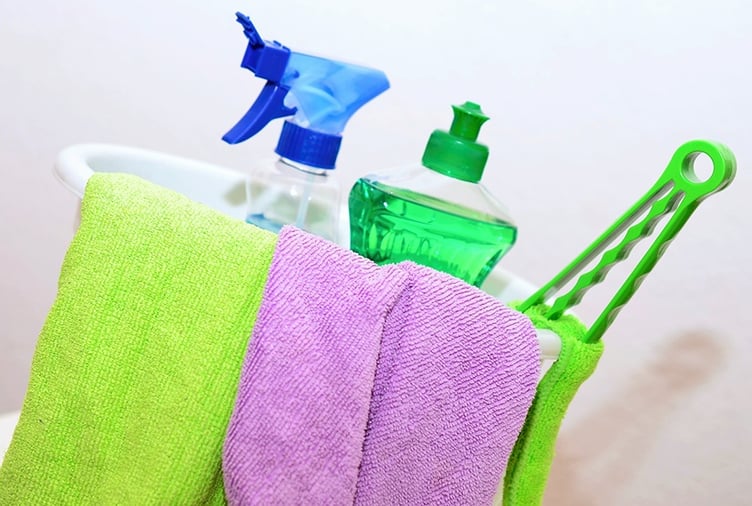 Your storm door is the first thing friends and family see when they arrive at your home. Maintaining a clean and welcoming front door is the easiest way to create a great first impression.
While keeping storm doors that sit outside in the elements clean can be tricky, cleaning it doesn't have to be. We'll break it down into three parts to get your door clean.
Frame
Cleaning a storm door frame is simple. Traditional multi-surface cleaners or glass cleaners are great for cleaning your frame. All you need to do it spray your surface and wipe it down. If you have a lot of seasonal dirt and grime on your frame, a simple dish soap and warm water solution makes wiping your door clean easy.
Glass
Depending on the model of your door the glass and build can vary.
Full view and Screen Away® styles typically don't have a screen in the way of cleaning your glass, making it easy. If you have a lot of grime around your full view door, remember that full glass storm doors give you the option to completely remove the glass panel for easy cleaning.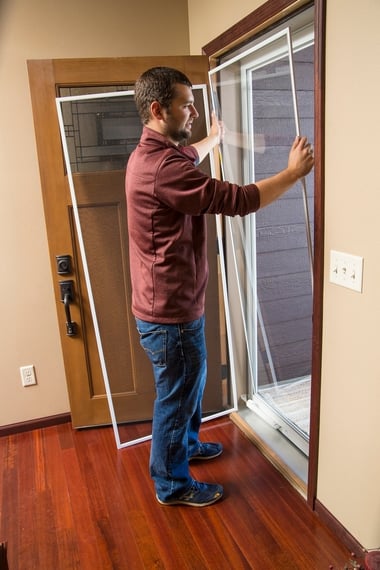 However, many traditional styles have a screen on the outside making cleaning the glass a bit tricky. If you have a traditional storm door, locate the finger pulls at the bottom corner of your glass insert. Squeeze the finger pulls together. Some door models have a notch on one side of the frame. If your door has a notch, slide the glass up until the finger pulls line up with the notch. If your door does not have a notch, just press the finger pulls together. With the finger pulls pressed together, remove the right side first. Then, slide the glass down to a comfortable height and lift the bottom of the insert out towards you until it is at about a forty-five degree angle with the door. Rotate the top of the insert counter clockwise until the guide pins clear the track and remove the glass insert.
Your screen insert can also be easily removed. Your screen insert will have a clip at all four corners. Switch each clip away from the channel and then your screen will come out.
Glass cleaners may be used with a lint-free soft cloth. To avoid streaks, do not try to completely dry surface. Never use any type of scraper or abrasive cleaner because they may cause damage to the coated surface on Low-E glass doors.
Handle
Be sure to know the material of your handle when cleaning. Several handle sets are solid brass. These handle sets have a clear coat finish to protect the brass. Over time, the clear coat finish can wear through or be compromised by nicks from rings and keys, exposing the solid brass to the elements. Unprotected brass will tarnish under this exposure. Polish the brass using a brass cleaning product, according to package instructions.
Break down cleaning your door in these three simple parts and you'll have a clean and inviting front entry in no time.