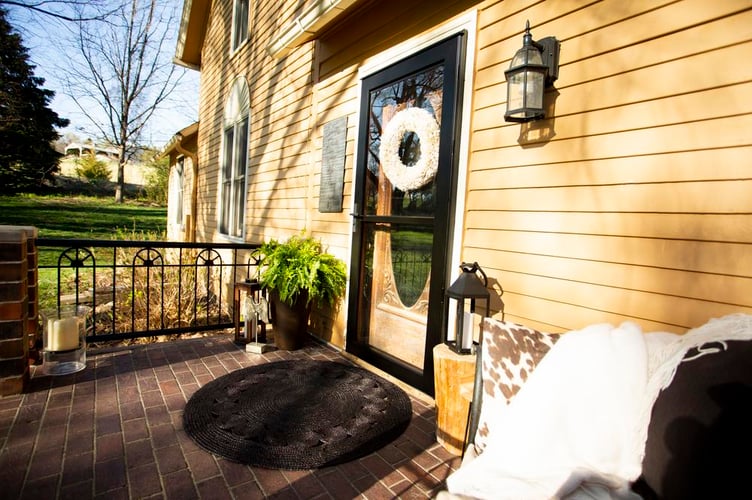 Your front porch says so much about you and the family you have. Give the outside of your storm door a personal touch. It doesn't have to be expensive or elaborative just a simple touch of you.
Customizing your curb does not have to be extremely expensive. You don't even have to do all these projects to make your front porch yours. Take what you want and put the rest in your back pocket for a rainy day.
Each of these are an example of how you can express yourself and express who you are on the outside of your house. These are all just ideas for you to take on yourself to design and choose projects that speak to you. Designing and choosing what works for you will really reflect who you are not what you saw here on this blog.
Here are four ideas on how to personalize your front entrance.
1. Add a Unique House Number Sign
The house numbers are needed on a house for all kinds of reasons including the post man, those traveling to your house, and it is just apart of the system to keep track of houses in the area. Our friend at Oh So Lovely, wrote a blog awhile back about How-to make a modern house number sign. If you want to learn how to make this one you should check her out!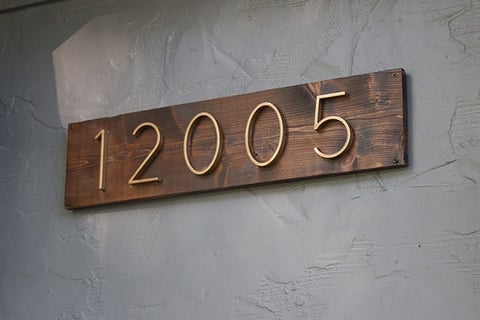 This is a beautiful piece, but if it is not you no sweat! I think this is one of the easiest and cheapest DIY projects you can do to personalize your space, make it your own and turn some heads while at it. You can be as creative as you want to be. Supplies for this project can really be found anywhere like Lowe's, Menards and you may even want to check out Hobby Lobby for different materials.
My biggest pet peeve is when I am driving to someone's house for the first time and I have to guess that I am at the right place because I cannot see what their house number is or cannot find it. Make sure you place the number where it can be seen easily and make it big enough to be seen from the road. I also recommend contrasting it against your house. If it is completely different from the house there is a higher chance that it will be seen.


2. Personalize a Door Mat
The doormat is the ultimate accessory to a LARSON storm door entrance and can be utilized for any season and any form of welcome you want. This is a simple and inexpensive way to put whatever you want at the foot of your door. One of our most recent blog posts went into detail on how-to customize a door mat.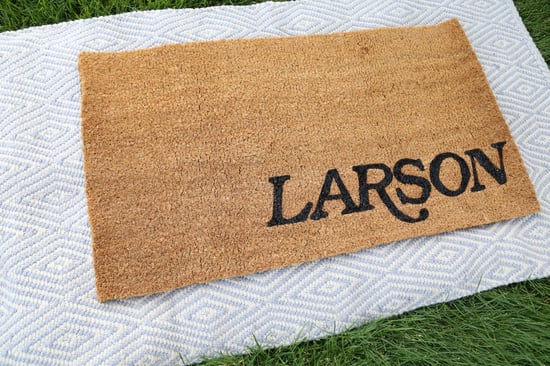 Spending a ton of money on customization is not practical and not necessary. Whether it's a sarcastic comment, a movie quote or even a funky pattern homeowners want to have a personalized welcome as you walk through their storm door and you should too. You get to be apart of every step in this DIY. From choosing the design to physically painting it in no time. This is an art piece you will for sure be proud of.
The supplies for this door mat are extremely simple. All you need is a plain door mat, paint and a stencil to create anything you want.
3. Get a Green Thumb
One way to personalize and fancy up your front door is to put planters on the side of your door. You don't want these planters to be too big for the space and to obstruct the walking area, but you do want them to be nice side pieces to the main frame which is the front door. Determining the size will really depend on how big your area is. You may be able to put planters on both sides or just one side. You may have to revert to putting them in front of a step and out of the walking path.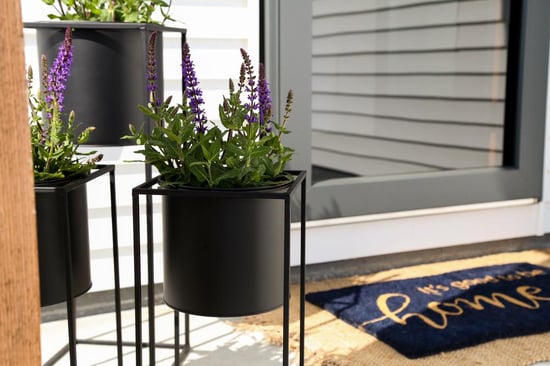 Planters may not have came to your mind as a personalized project, but think about all of the different aspects a planter brings to your front. Number one is that it shows how well you can take care of certain plants or if you are not a plant person at all, but still enjoy the style of it all.
Number two the pot itself says a lot about who you are and who you want to be. Pots come in so many different sizes, shapes and colors how could they not be a personalization. Number three you get to put a living thing inside of it and watch it grow. Growing plants give owners a sense of pride (when successful), being a plant parent can give you something you didn't even know you needed. Whether you go bold or subtle potted plants are the perfect welcome to a home.
Our customers have told us, "A storm door is not complete without a wreath," and we can't agree more. There are many different ways you can hang a wreath on your storm door. We have a blog post that shows all the different ways in one spot!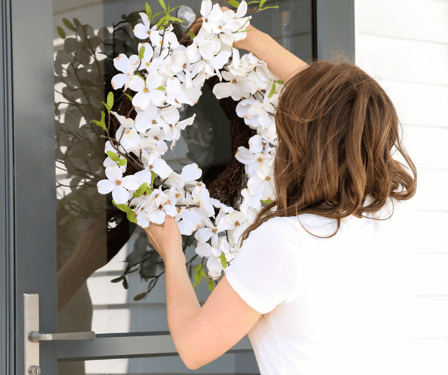 The wreath is an accessory that most people will comment on. You can change them out season to season with ease. Even if you want to change it out during a current season you can. Anyway you want to decorate is up to you and so easy. faux wreaths are the most popular right now and come in so many different designs. They are being sold at pretty much every store that sells decorations because everyone is added them to their door.