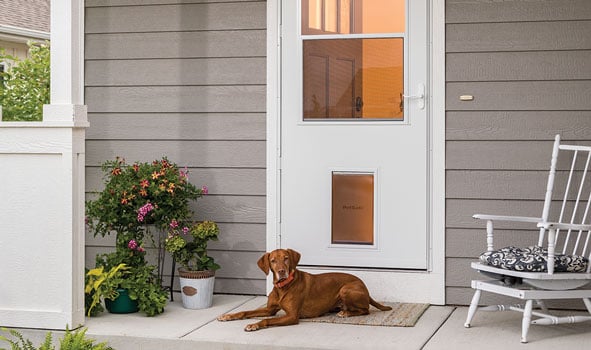 Is your four-legged friend the smartest pup in the world? Check out this super dog using his wit whilst entering a LARSON pet door storm door!
This pup is pretty doggone smart! #YourGMAMoment@Ginger_Zee pic.twitter.com/qS8UC3s0Re

— Good Morning America (@GMA) January 20, 2020
Because you share your heart and your home with your dog, invite him to expand his independence and enjoy the ease of entering and exiting your home with a LARSON storm door with PetSafe pet flap.
Before you cut into your walls or damage your expensive prime doors, consider a pet storm door from LARSON. We have several storm doors options to keep your furry, four-legged family member content in your home. Not only do these doors add beauty and curb appeal to your front door, but they make your life and your pet's a bit easier. Relax! We'll let your pet out.
Before you buy, learn about storm doors with a pet doors.