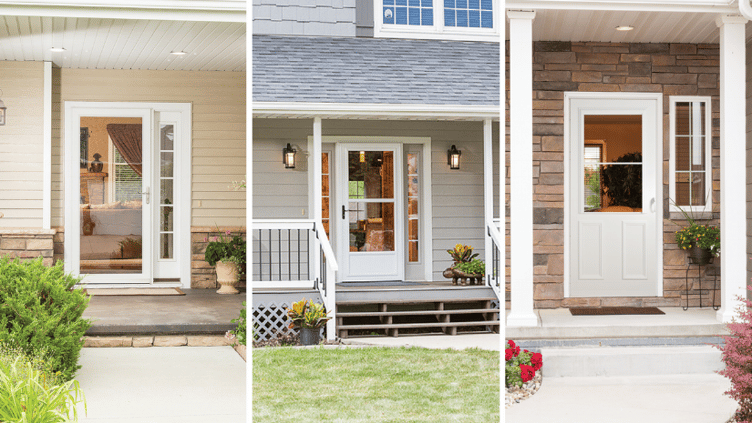 The wide selection and options for storm doors can be overwhelming, so we're going to break it down into the basics. With variety combinations of screen and glass panels, the best place to start in your door buying process is the view type.
Full View Storm Doors
Full view storm doors feature a full glass design that lets in the light and shows off your home's entry.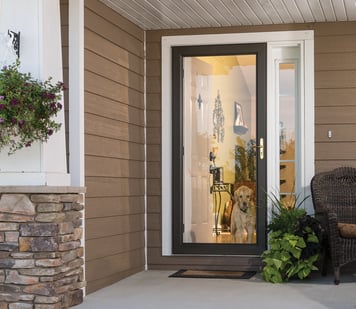 With full glass doors, you can let your front entry's current look speak for itself while giving yourself the opportunity to enjoy a beautiful view from the comfort of your home.

This style of doors offers the widest variety of customization options with your choice of 7 frame color options, 5 glass designs, 7 handle
colors options, and custom size options for larger openings. Most full glass models come with an interchangeable screen for seasonal ventilation, so you can enjoy a full-screen door in warmer months. Some models feature retractable Screen Away®, so you can easily let in the breeze whenever you want. These doors are a great option if you have a bright, painted front door or if you simply want to enhance your home's curb appeal. Additionally, kits are available with a full view doors to accommodate for French Doors.
Mid-view Storm Doors
Do you want to enjoy the natural sunlight in your home, but have a lot of traffic coming in and out? A mid-view door might be the best fit. The design lets you enjoy increased light in your entry, but also has a bottom panel that adds durability for heavy foot traffic. These doors offer traditional ventilation, retractable screen Screen Away®, or multi-vent options so you can enjoy the fresh air on demand. Featuring a ¾ glass design, these doors look great on any entry.
High View Storm Doors
Durability defines high view storm doors. These doors have the traditional look featuring glass and screen on the top half of the door. Featuring the largest bottom panel option, high view doors are designed to stand up to heavy foot traffic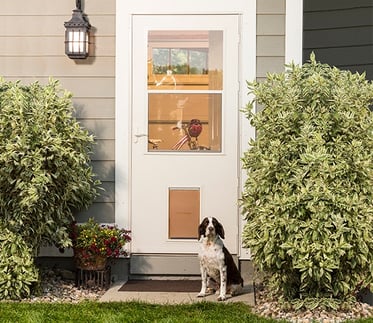 . A great choice for backdoors or any entry where there is a lot of traffic that might not open the door as nicely as a front door. These doors feature traditional on-demand ventilation where you lift the glass up to enjoy the breeze. Select models include Screen Away ventilation—great for arthritic hands or houses with kids.
Once you've determined the view type that's right for your home, start browsing the variety of features available for each model.