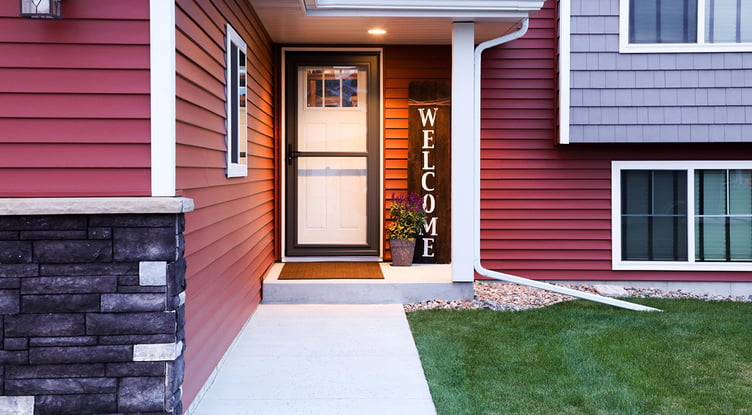 What is a storm door? A storm door is a second, outermost door of a home's entrance. Storm doors can be used on front doors, back doors and side doors. Storm doors were originally invented to protect entrances against bad weather. Today's storm doors provide many more functions. Storm doors seal out bad weather, reduce outside noise, provide ventilation, add light to your home, keep bugs out, and add to your home's curb appeal. Our pet-friendly storm doors include a pet flap to give your four-legged family member more independence.
What is a storm door?
Merriam Webster defines a storm door as an additional door placed outside an ordinary door for protection against severe weather.
Dictionary.com defines a storm door a supplementary outside door, usually glazed, for protecting the entrance door against drafts, driving rain, etc.
Both are correct, but are nearsighted. Storm doors are used as an additional barrier between the outside and the inside. Storm doors do seal out harsh weather and bugs, but they also invite light into your home.
Storm doors generally have a screen to provide ventilation and prevent flying insects from entering the home. They serve dual purposes - a screen door in the spring, summer and fall, and a storm door in the winter.
Storm door styles
The frames and glass of storm doors can come in many different styles, all which let in different levels of light. Full view storm doors have an entire panel of glass in the door, mid-view storm doors are comprised of three-quarters glass, and high view storm doors have glass in the upper half. Glass can be clear, decorative, or Low E. If you need a storm door customized to a style that matches the exterior of your home, they are available in a variety of colors, and handle sets are available in many different finishes.
Do I need a storm door?
Most homes can benefit from adding a storm door. At LARSON Companies, we've designed storm doors to fit your needs, while enhancing your curb appeal.

Pros:
Keeps you and your family connected and protected from the outside world
Allows fresh air into your home when you want it
Let's you see outside, which is great for homes with solid doors
Lets light into your home, but keeps bugs out
Protects your primary door from rain, ice, snow and sun
Available in multiple options, styles, colors, etc.
Increase your pet's independence with a pet-friendly storm door
Reduce fading with Low-E glass
Storm doors can be a useful and beautiful addition to your home. Invite fresh air and light into your home, all while increasing your home value and curb appeal.