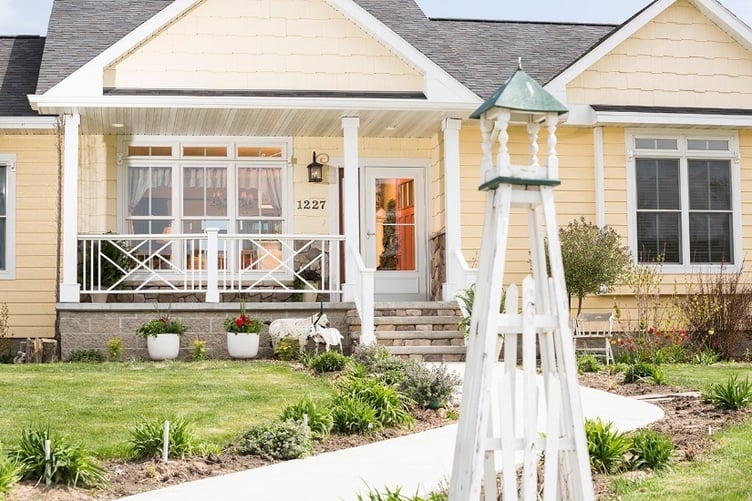 Thinking about buying a storm door? Don't know where to start? Don't worry. We have everything you need to do before you buy a storm door.
Measure For Fit
Measuring your opening size is easy and straight-forward. First, make sure that you have a mounting surface that is at least one inch wide by one inch deep with a ninety-degree angle. Then, take the measurements of your opening.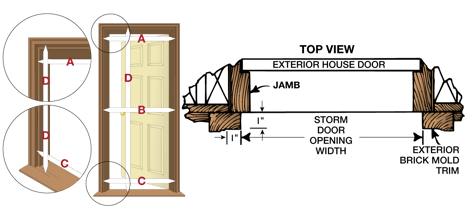 For the width, measure from left to right inside the brick mold where the storm door mounting rails will be installed. Measure in three places, top, middle and bottom (A,B,C). Provide the narrowest of these measurements. For the height, measure from the threshold where the storm door will sit on the top (D). There may be some large or more ornate entry handles that could interfere with your storm door handles. In that case, you might hinge your door on the opposite side or modify your opening toward the street to ensure clearance.
Most retail stores carry a few standard heights in stock. If your size isn't in stock, ask your retailer to custom order for you to ensure a great fit.
Determine Color
Before you get too deep into the buying process, think about your exterior color scheme. The front of your home is the first thing guests see, so ensure your exterior color scheme is put together.

With 7 storm door colors to choose from, selecting a color can be tricky.
It's important to think about the features that currently exist. Matching your storm door with the trim on your sidelights is one simple way to create a completed look. If your prime door is a bright and cheerful color that you want to put on display consider adding a full view in white or black to frame your painted front door.
If you have big bold cranberry pots, consider matching your storm door to the color. Think about the color scheme of items that you might use seasonally too, such as outdoor furniture.
It's important to take a step back and determine the look and feel you want for your home.
Think About Your Lifestyle
Lifestyle plays into the selection of your door. Pets, toddlers, and teenagers are just a few of the lifestyle considerations you need to keep in mind when finding the right door for you. Look into the variety of innovative features that enhance daily life.

Take these 3 things into consideration when finding the right door to fit your home and lifestyle.