When it comes to home security, metal security doors are built to protect what matters most. While built for front door security and protection, many doors include features that enhance security.

Built on 1" x 2", 16-gauge steel frame doors, LARSON metal security doors are durable and provide superior protection for your front entry.

Anti-Removal systems create an additional layer of security. The system includes a special screw or 'vault pin' that screws through the inside of the hinge rail into the house and about a half inch sticks out. When the door closes the pin goes into the pre-drilled hole shown on the right picture. If an intruder tries to unscrew the hinges or hinge mounting rail the vault pin keeps the person from being able to remove the door from the house because the pin is screwed to the house and it's inside the door. The only way to access the vault pin system is to open the door from the inside.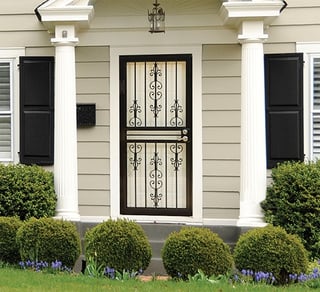 These doors also have a reinforced lock box that uses standard deadbolts. Additionally, a lock guard enhances security by making it extremely difficult to tamper with the latch and deadbolt.
Metal security doors are built to protect what matters most. Look into these advanced features when you're shopping to ensure you're getting the most protection.
Note: if you're looking to enhance your home security, but the thought of metal bars intimidate you, look into security storm doors for more options.