When you're on a budget, home renovations and remodels can seem impossible. With these 10 mini-remodel projects, you can give your home a mini-makeover that is budget friendly.

Read on to see 10 small, but mighty home remodels project ideas you can do under $100.

1. DIY Statement Wall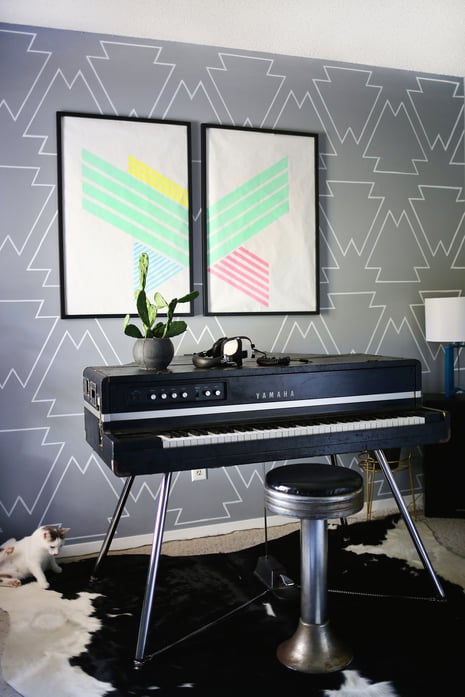 Add some personality to your home with a statement wall. Laura Gunnerman from A Beautiful Mess created a wall that is truly one of a kind. All you need is scrap cardboard (ask for discard boxes at your local store), some painter's tape, a thick white paint pent, push pins to hold the template, and an X-acto knife. This project only costs around $10 in supplies, but leaves a big impact in your home.
2. Coastal Planked Penisula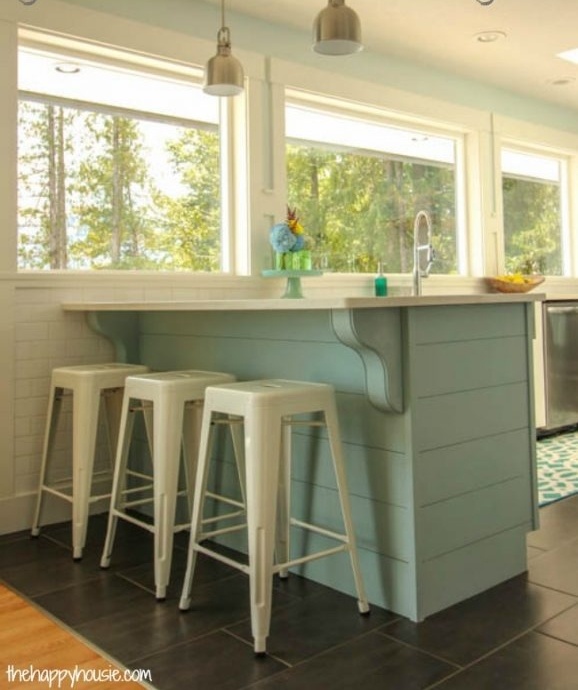 If your peninsula is too boring take a hint from Kirsta at The Happy Housie and add some planks and paint to make your breakfast bar a thing of beauty. With a shiplap type of look, you can create this look for around $15 (depending on peninsula size). Simply add some MDF planks to your kitchen peninsula. Finish it off with a few coats of paint (around $15) and you've created a whole new look for your kitchen for under $50 (minus the cost of a nail gun if you don't have one available).
3. Bathroom Overhaul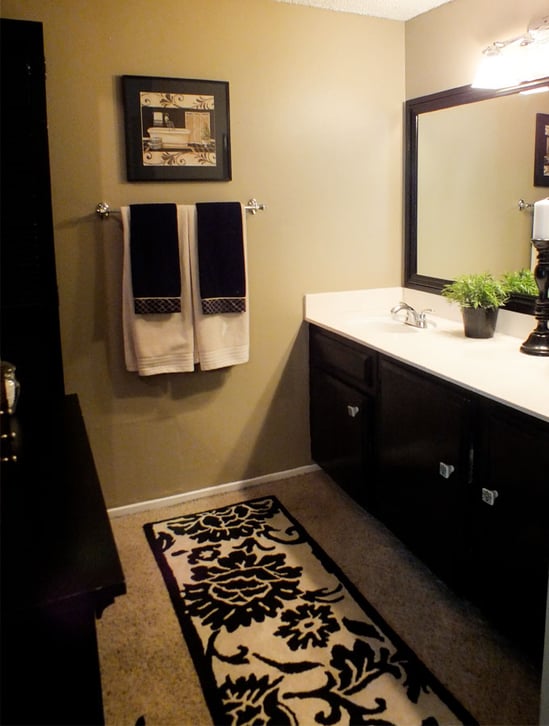 It never ceases to amaze me how much of an impact a gallon of paint can make. Laurie and Nancy from Two Sisters Crafting prove that for under $100, you can completely makeover your bathroom. Getting thrifty, they used left over paint for the walls and then bought some paint for the cabinets and bathroom door ($13.96). To give the cabinets a more updated look, they added some trendy printed knobs on the cabinets ($10.00). They also added trim to the mirror ($15) to give it a modern look that matched the newly painted room.
4. Vintage Aqua Kitchen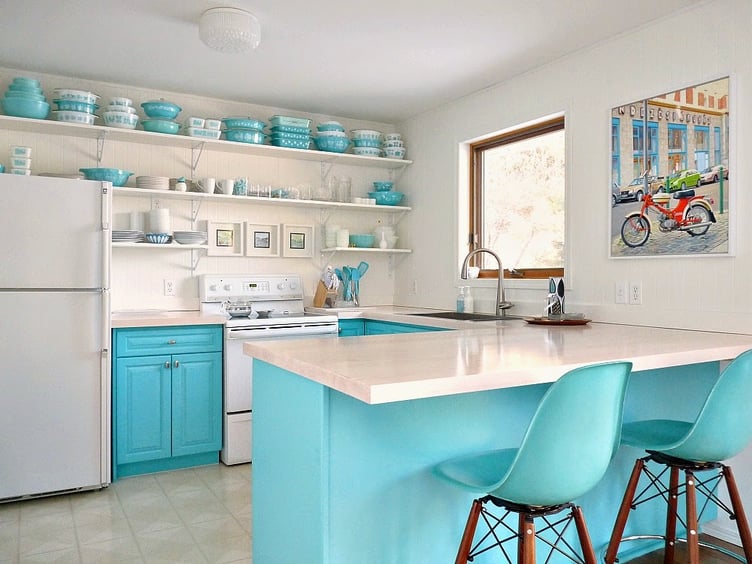 In the process of completely renovating her kitchen, Tanya from Dans Le Lake House decided she wanted a turquoise kitchen. Another example the big impact a little paint can have. I love the vintage feel the aqua details gave this kitchen. From the vintage colored Pyrex on display the chairs, this aqua kitchen creates a kitchen where you feel at home in while still staying on trend.
5. Trendy Geometric Headboard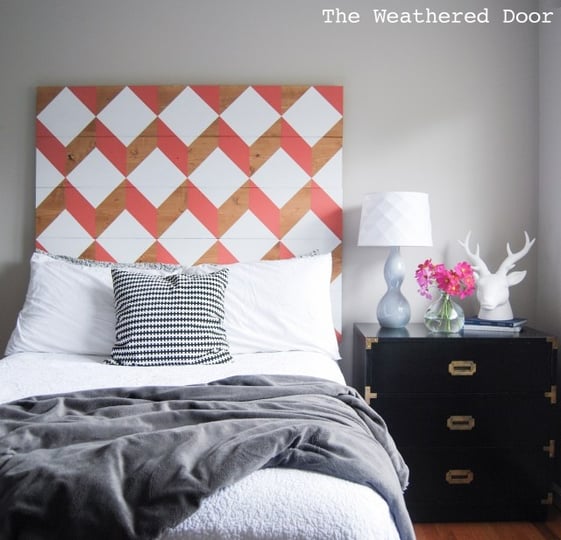 Forget about spending a fortune on interesting artwork for the bedroom—build a geometric headboard that becomes the room's artwork. You only need to grab a supply list that's around 6 items long to create a headboard that'll turn heads. Reeves from The Weathered Door shows us how $70 and some patience with painter's tape can give your bedroom a mini-makeover to turn it into a modern and trendy design.
6. Outdoor Oasis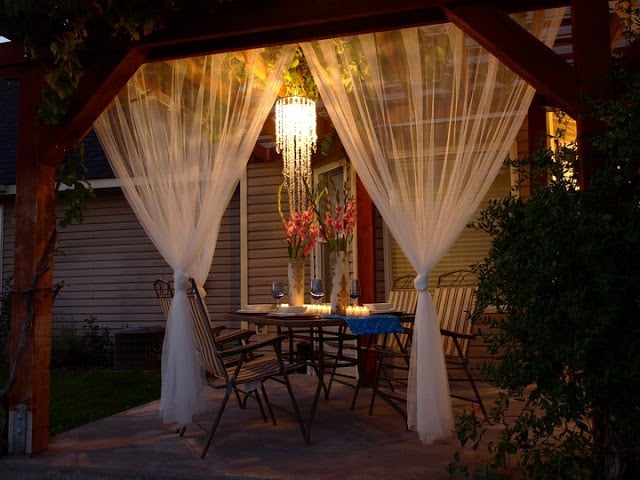 Take a note from Live Gorgeously and turn your patio area into a gorgeous outdoor oasis. Adding a lighting centerpiece and curtains to your pergola transforms your backyard into a romantic getaway. Not only is this project budget-friendly, but it's an easy way to add 'living' and entertaining room to your home without the hassle of major construction. Bring extra attention to your outdoor oasis with a fullview storm door that let's you enjoy the view outside.
7. Stairs with a Color Lift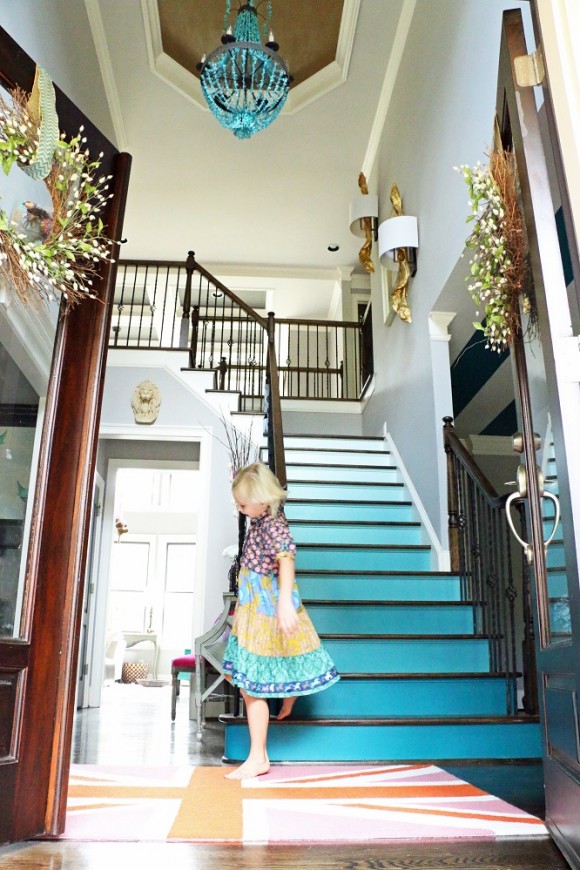 When you grab a gallon of paint, your stairs might not be the first place you think to paint. However, painting your stairs can add a dramatic statement to your home. Go for a single color or get creative with a trendy ombre effect like Brittany from Addison's Wonderland by gradually going shades lighter every three stairs. Whichever way you choose, painting your stairs is guaranteed to liven up your home.
8. Sliding Barn Door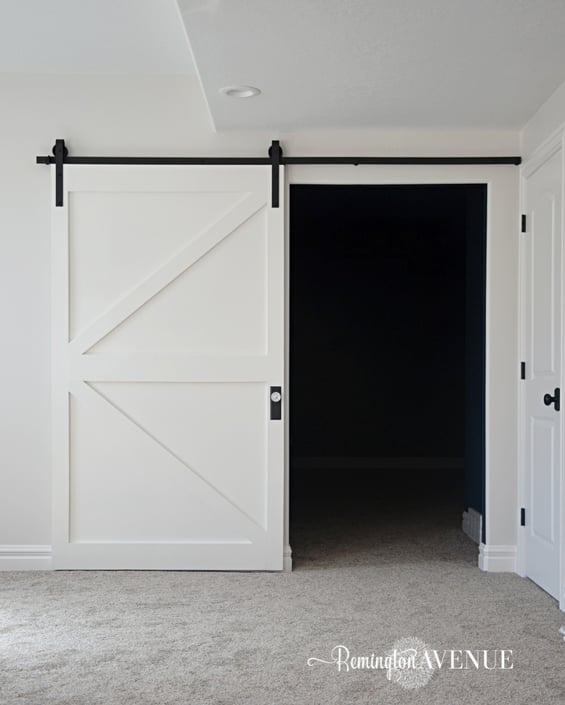 Barn doors are all the rage right now, and a home trend that doesn't seem to be going away anytime soon. Adding on to your home can turn an ugly closet door into an interesting statement in any room. Mysha from Remington Avenuewill take you through step-by-step to add this beauty to your home for $50—so budget-friendly you can make two!
9. Rustic Farmhouse Table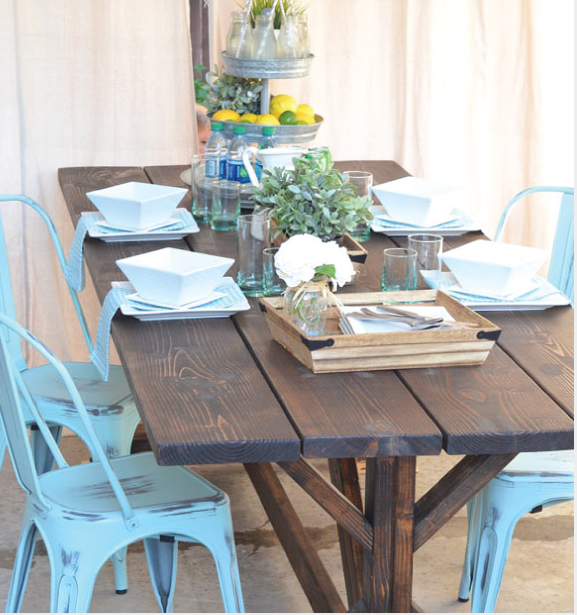 Give your dining room a rustic look by building a farmhouse kitchen table. Building a farmhouse gives your dining room a new look for under $100. The dark stain and design adds character to any dining room. At the $100 price tag, you can even take a note from Katy at A Shade of Teal and use this DIY table as an outdoor table to entertain guests.
10. Bookshelf Re-mastered with Wallpaper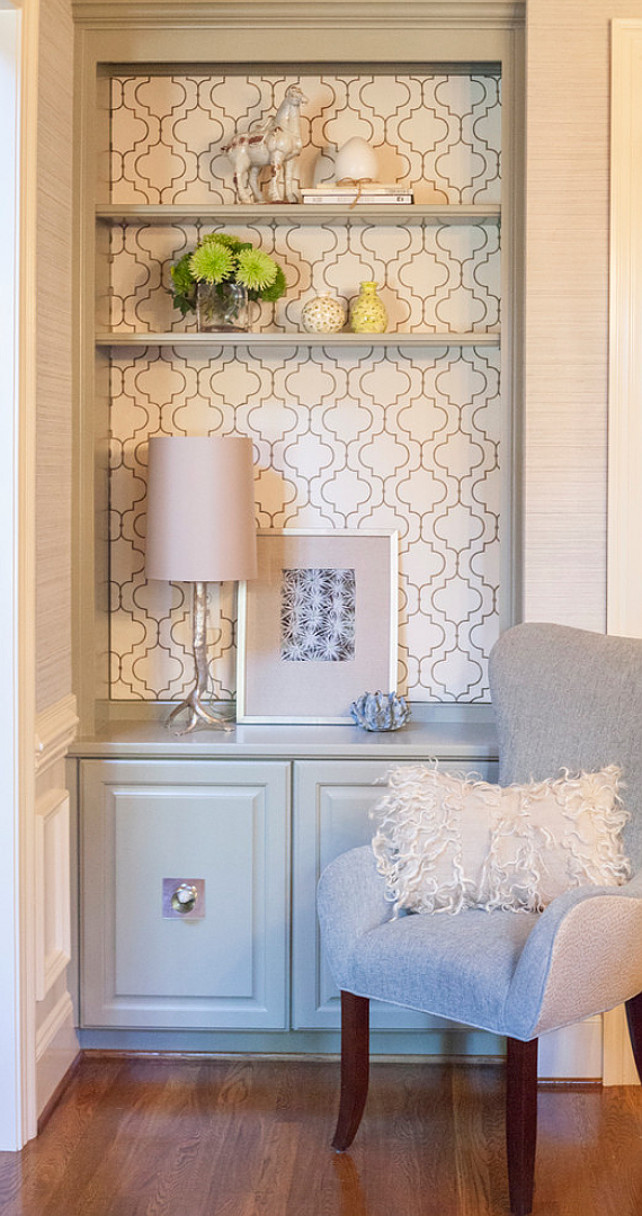 Update and upgrade your boring bookshelf with some wallpaper like Home Bunch did. Yes, wallpaper may seem old-fashioned, but with modern prints and designs wallpaper can be an easy way to add a pattern to your room. By wallpapering a bookshelf, you can quickly create a statement piece without having to completely overhaul the whole room—making this budget friendly.
Say goodbye to expensive home remodels and hello to these budget-friendly mini-home remodels. Follow us on Pinterest for more DIY project ideasand inspiration.