Autumn shows us how beautiful it is to let things go. Decorate your front entrance for Harvest or Halloween.
Fall decorations are different for so many reasons. There are many types of decorations. You can decorate for the fall season by adding fall colors and leaves. Maybe your focus will be on harvest and your doorstep will be loaded with pumpkins, cornstalks, mums and buffalo plaid.
October also gives you the opportunity to deck out your doorstep with spooky and scary decorations for Halloween. Decorate your front entrance for whichever theme you choose.
🍂Fall Feelings 🍂
Pumpkins, Pies, and pillows oh my! Fall feelings are contagious. As the leaves change so do our attitudes toward the decorations we put up. Your front entrance is no exception. Here are some tips (no tricks) on ways you can decorate for fall.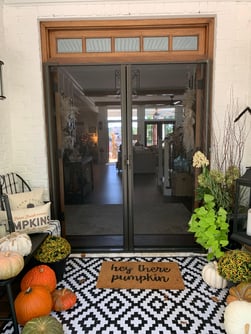 Use a variety of pumpkins to decorate for this season. They are a staple and add touches of fall colors and depth to the entrance. I recommend finding many different shapes, sizes, and colors to really get a good mix and make a statement. They can easily be the main attraction or just an addition to any doorstep.
Use nature for inspiration. Use different things you would find during fall harvest to decorate and give the spot an authentic feel. Adding dried corn stalks, sunflowers, or grains of wheat next to your other decorations will give it some height and take the focal point off the ground and point it towards the entrance.
Include a harvest helper to the doorstep. Whether it is a scarecrow or autumn-themed garden gnome, it is sure to grab the attention of those walking by. Other autumn-themed decorations include lanterns, old pickups, and woven baskets to make the decorating complete.
🎃 Spooky Set up 🎃
Decorating for Halloween can be as subtle or spooky as you want it to be. Whether you create an entire graveyard scene in your front yard or you hang one sign, getting into the spirit of the holiday can sometimes be more fun for you than the kids.
Paper bats are the talk of the season. This subtle hint of creepy décor has turned into a stylish statement. You are able to choose the amount and the color of the bats that you hang on your wall. Most people hang them in a design that would resemble how they fly in groups. For the eeriest look, make sure they are all black. They can be strategically placed on the storm door or nicely around it and give your house an added dimension to your decorations.
Trick out your storm door by reimagining the way it works. One way to reimagine the door is to create a new insert for the door to attract those trick-or-treaters on Halloween. Jordan, a LARSON employee, created a Star Wars theme for their Halloween look this year. She hand painted the Millenium Falcon insert on cardboard. If you have a Fullview door you have a world of creative ability at your fingertips, just grab some cardboard and some paint and your Halloween decorations will be complete in no time. This would be an excellent idea if your family is like Jordan and you are planning a family theme, or if you are not too keen on kids coming into your house and you want to hand them candy through the door.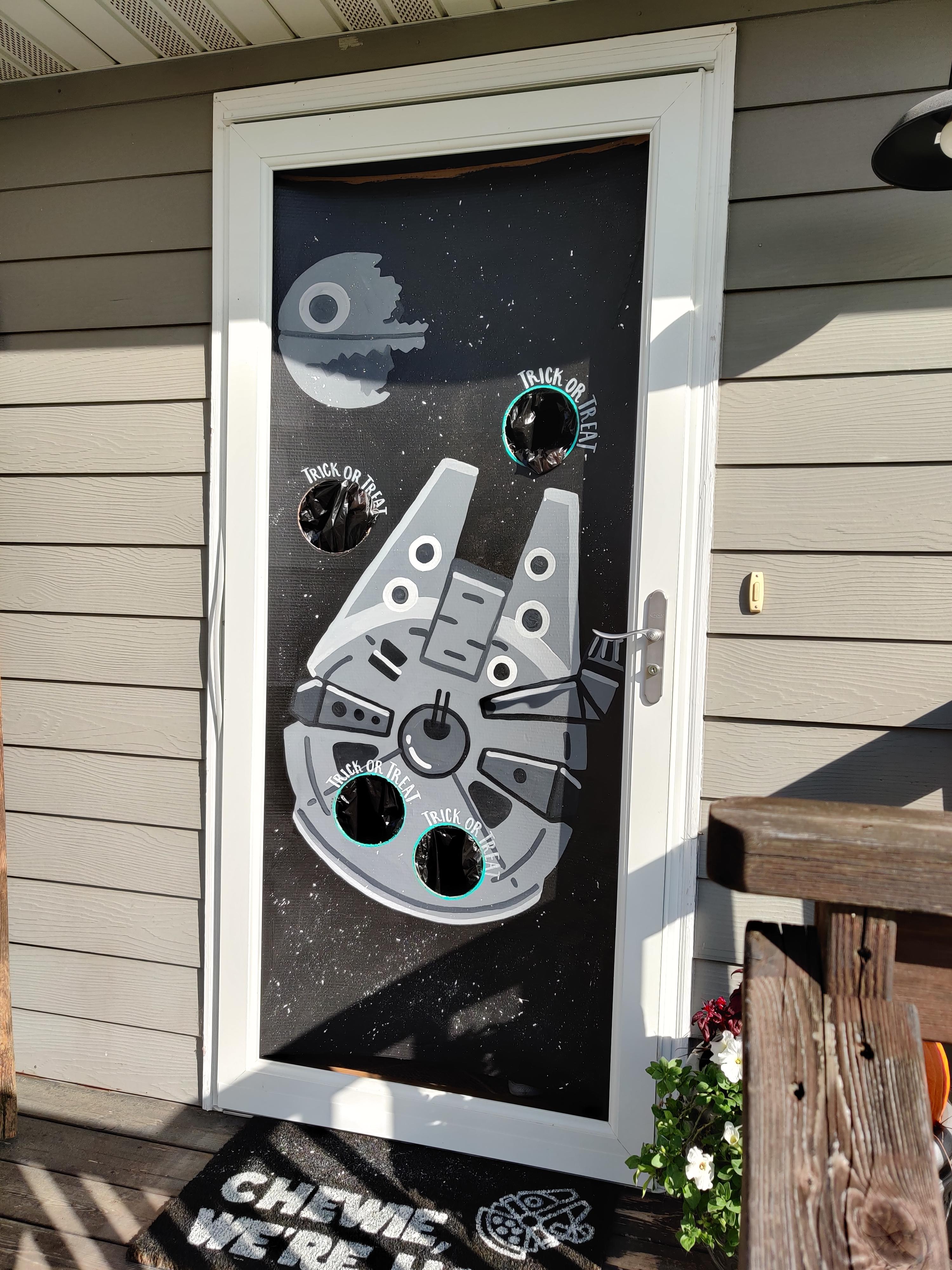 Find more door ideas by reading our blog, Tips for Decorating a Storm Door for Halloween.
No matter what you do for the season, fall is the perfect time to reconnect as a family and to spend time giving and receiving from others. Whether that is trick or treaters or those that work endlessly in the fields to put food on our tables. We wish you the spookiest Halloween and most bountiful Autumn!